(Click image to enter)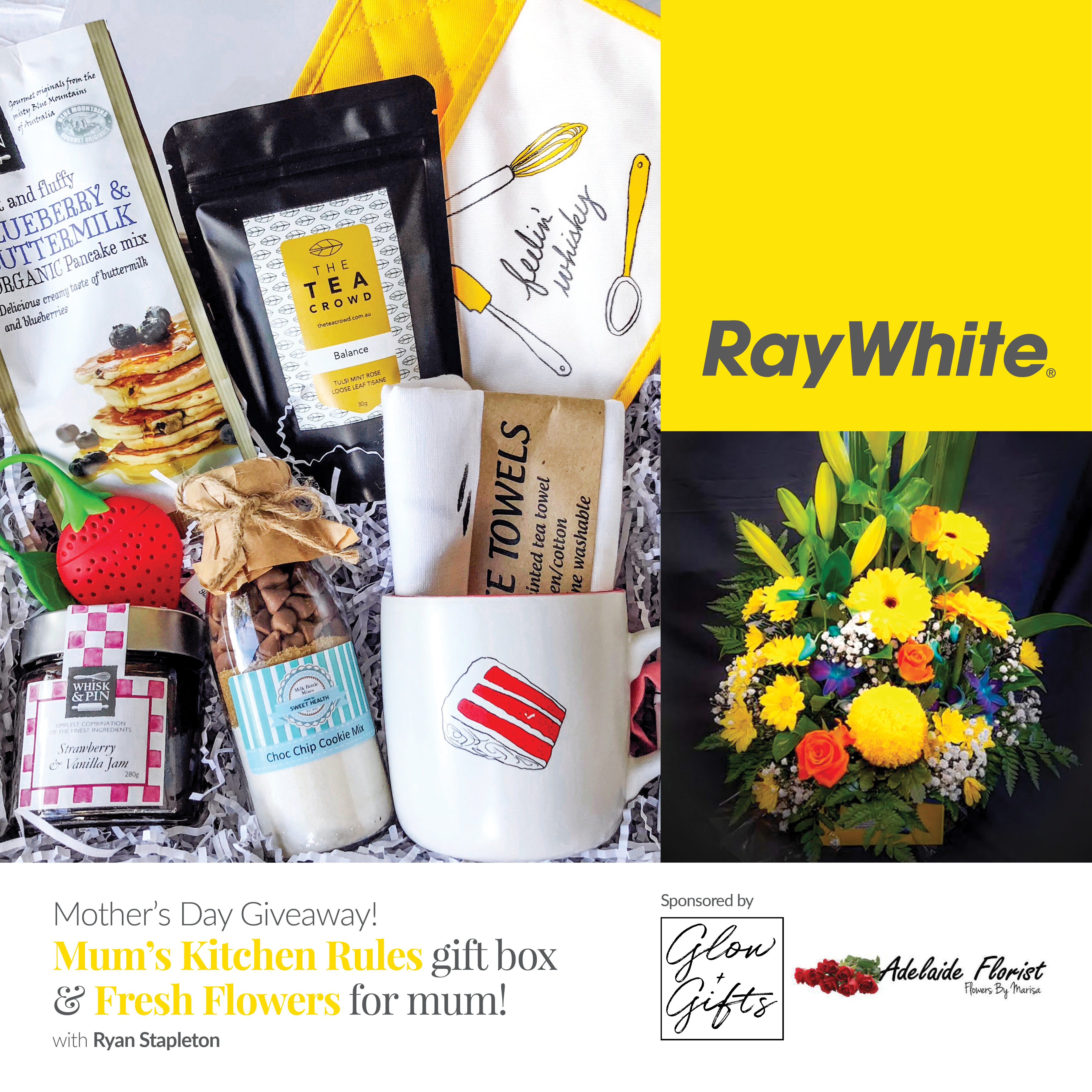 Mum's Kitchen Rules Gift Box
by Glow & Gifts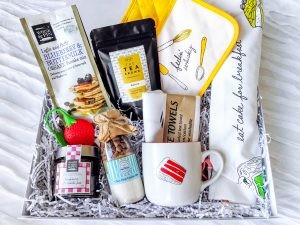 "Brighten up mum's kitchen with a box of Glow filled with deliciousness!
From pancakes to cookies to the perfect cuppa!
We've got mum all set for a colourful time in the kitchen – even the apron will be telling her to eat cake for breakfast!"
Choc Chip Cookie Mix, Sweet Health
Who doesn't love a great chocolate chip cookie? This batch of deliciousness will have you coming back for more. *makes 6 cookies*
Jam, Whisk and Pin
Strawberry and Vanilla. Incredibly delicious, you'll spread it onto anything!
Blueberry Pancake Mix, Whisk and Pin
Blueberry. Pancakes. Need we say more?
Balance Tea, The Tea Crowd
Tulsi Mint Rose Loose Leaf Tisane. This delicious brew will have you on the mend restoring balance with its calming blend of spice and sweet.
Strawberry Tea strainer, Clean Tea
Perfectly sized for your cup of tea, this strawberry tea strainer is an adorable addition to our Mum's Kitchen Rules gift box.
Tea Towel, By Coffee Towels
A beautifully hand painted tea towel. A one-off original, made with love and completely gorgeous!
Oven Mitt, Recipease
Feelin' Whisky? Ready to brighten up any kitchen, this oven mitt will have your baking at the ready.
Coffee/Tea Mug, Recipease
Red Velvet on a mug. Seriously. This coffee/tea mug will have you sipping back your favourite brew while you browse over the Red Velvet cake recipe written on the mug!
Apron, Recipease
Fun. Colourful. And covered in cake – Literally! Perfect for baking sweet treats and gourmet dinners alike. And hey, Eat Cake for Breakfast!
FRESH FLOWERS BOUQUET
by Adelaide Florist: Flowers By Marisa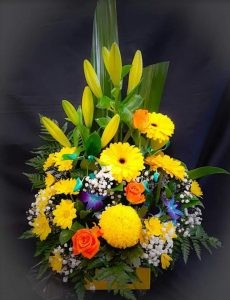 "We are committed to offering only the finest floral arrangements and gifts, backed by service that is friendly and prompt, while always go the extra mile.
We have a host of ideas about how to make any gift occasion something special for both you and the recipient."
– Adelaide Florist: Flowers By Marisa
Our Sponsors: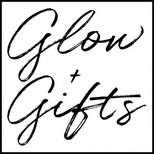 Glow + Gifts
E: admin@glowandgifts.com.au
W: https://www.glowandgifts.com.au/
F: https://www.facebook.com/pg/glowandgifts
I: https://www.instagram.com/glowandgifts/

Adelaide Florist: Flowers By Marisa
A: Shop 10, 73 Johns Street, Salisbury SA 5108
T: 08 8285 9500
W: http://salisburyflowershop.com.au/
F:https://www.facebook.com/Adelaide-Florist-139841803179262/
TERMS AND CONDITIONS
Duration
Entries shall be accepted from Monday 16th April 2018 – Thursday 10th May 2018 (ACST)
The winner will be notified via Facebook on Thursday 10th May 2018 by 5pm (ACST).
Entry
Entry is free and the competition is open to all South Australian residents only, however:
a. If the entrant is under the age of 18, they must obtain the prior permission of their legal parent or guardian over the age of 18 to enter. The parent or guardian of the entrant must read and consent to all Terms and Conditions. The parent or guardian may be called to verify consent.
b. If you are an employee of Ray White – Golden Grove, Greenwith, Salisbury, Glow and Gifts and Adelaide Florist: Flowers By Marisa you are not eligible to enter.
c. If you are the winner, you must be in the Adelaide region or be able to arrange someone to pick up the prize
To enter, individuals must correctly complete the task as outlined in the competition instructions during the promotion period. Entrants must follow the following steps to be eligible:
Step 1. "LIKE" the Ryan Stapleton – Ray White Golden Grove, Greenwith, Salisbury page
Step 2. "LIKE" the Glow and Gifts and Adelaide Florist: Flowers By Marisa
Step 3. LIKE the post and TAG your friends in the comment box
Individuals who submit entries will be deemed to accept and be bound by these terms and conditions.
One winner will be chosen using a random winner generator. Entries must be the original, independent creation of the entrant and free from any third party claims, including copyright or trademark claims. Entries must not: (i) have been published previously; (ii) contain information that is discriminatory, defamatory, and offensive or infringes any law or regulation.
Information on Prize