(Click image to enter)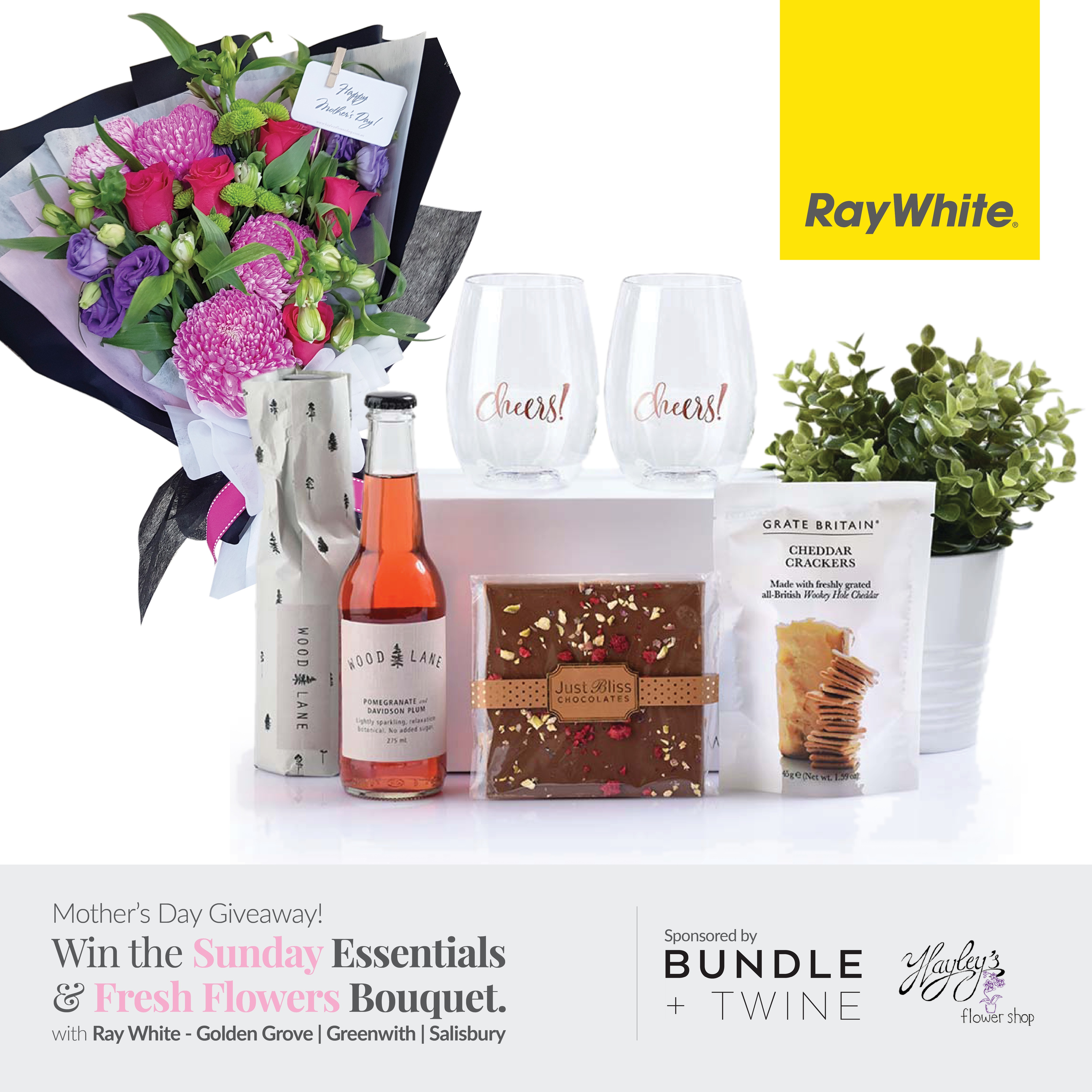 SUNDAY ESSENTIALS
by Bundle + Twine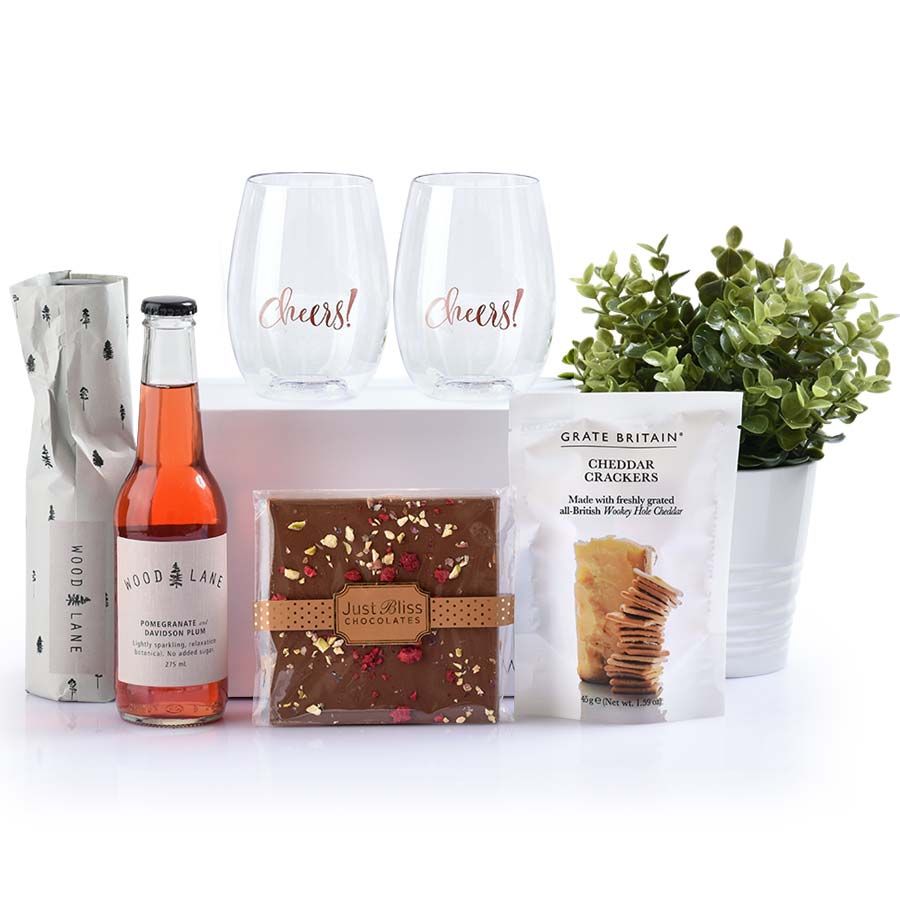 "We've gathered together a bundle of gorgeous products so your friends, family or workmates can enjoy a lazy Sunday afternoon,
relaxing alone or enjoying time with friends. It's a lovely way to celebrate a birthday, engagement or wedding or, it's an equally lovely surprise to send someone at the end of a long week.
A relaxing, sparkling Pomegranate & Davidson Plum botanical beverage from Woodlane,
poured into two shatterproof "cheers" glasses, accompanied by sweet and savoury treats – the best way to spend a weekend afternoon."
– Bundle + Twine
THE 'SUNDAY ESSENTIALS' GIFT BOX INCLUDES:
Shatterproof drinkware with "Cheers" print, thin, flexible, highly designed drinkware that is safe, practical and beautiful, plus it's dishwasher safe
One Woodlane Relaxation Botanical, Pomegranate and Davidson Plum flavour, 275ml, a naturally flavoured, non-alcoholic sparkling drink with no added sugar (note that one bottle is displayed both inside and outside of the hand wrapped paper packaging)
Grate Britain Cheddar Crackers, made with freshly grated all British Wookey Hole Cheddar, 45grams
Just Bliss Milk Pistachio and Raspberry Chocolate Tile, 100 grams
FRESH FLOWERS BOUQUET
by Hayley's Flower Shop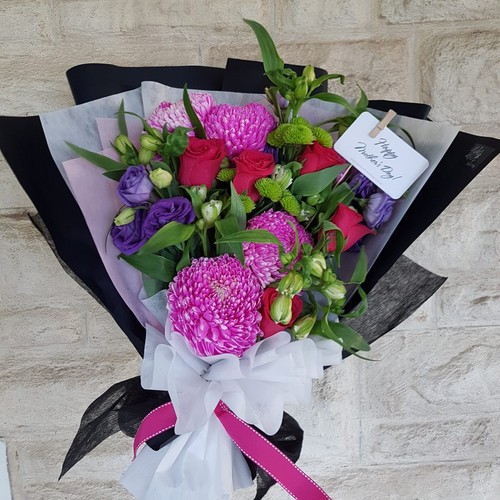 "Hayley's Flower Shop is an online florist, based in Adelaide. We do all things flowers. No matter the occasion, big or small, we are dedicated to delivering personalised service, quality flowers and stylish balloons.
With attention to detail and design, we hope to provide an immaculate setup"
– Hayley's Flower Shop
Our Sponsors:

Bundle + Twine:
M: 0490 549 250
E: hello@bundleandtwine.com.au
W:https://bundleandtwine.com.au
F:https://www.facebook.com/bundleandtwinegifts/
I: https://www.instagram.com/Bundleandtwine/
Hayley's Flower Shop:
M: 0402 774 230 | 0424 157 726
E: admin@hayleysflowershop.com.au
W: https://www.hayleysflowershop.com.au/
F: https://www.facebook.com/Hayleysflowershop
I: https://www.instagram.com/hayleys_flowershop/
TERMS AND CONDITIONS
Duration
Entries shall be accepted from Monday 16th April 2018 – Thursday 10th May 2018 (ACST)
The winner will be notified via Facebook on Thursday 10th May 2018 by 5pm (ACST).
Entry
Entry is free and the competition is open to all South Australian residents only, however:
a. If the entrant is under the age of 18, they must obtain the prior permission of their legal parent or guardian over the age of 18 to enter. The parent or guardian of the entrant must read and consent to all Terms and Conditions. The parent or guardian may be called to verify consent.
b. If you are an employee of Ray White – Golden Grove, Greenwith, Salisbury, Bundle + Twine and Hayley's Flower Shop you are not eligible to enter.
c. If you are the winner, you must be in the Adelaide region or be able to arrange someone to pick up the prize
To enter, individuals must correctly complete the task as outlined in the competition instructions during the promotion period. Entrants must follow the following steps to be eligible:
Step 1. "LIKE" the Ray White Golden Grove, Greenwith, Salisbury page
Step 2. "LIKE" the Bundle + Twine and Hayley's Flower Shop
Step 3. LIKE the post and TAG your friends in the comment box
Individuals who submit entries will be deemed to accept and be bound by these terms and conditions.
One winner will be chosen using a random winner generator. Entries must be the original, independent creation of the entrant and free from any third party claims, including copyright or trademark claims. Entries must not: (i) have been published previously; (ii) contain information that is discriminatory, defamatory, and offensive or infringes any law or regulation.
Information on Prize